How to Manage Your Time Wisely
As a student, whether in high school or college, you have a lot on your plate. Trying to balance schoolwork, extracurricular activities, and a social life can be an extremely stressful task to face. Here are a couple of tips for you to sort yourself out and make your school life just a little easier.
Sort Out Your Priorities
What is important to you? What do you have to do? These are the things you need to be asking yourself before setting up a schedule. The time for your classes and work hours need to be set aside first, and the remaining free time can be divided from there. Do you want to prioritize spending time by yourself or with friends and family? Are you involved in clubs or extracurricular activities that take up your time? Setting out what is most important to you and giving those things a specific amount of time can relieve a little bit of stress on your part. Just make sure to stick to your schedule! If you find that you haven't left enough time for homework, then you should change your schedule as needed. Creating a habit of sorting your priorities can free up a lot of free time you didn't even know you had!
Write it Down
Whether it's on a calendar or in a planner, a visual representation of your schedule for the week is a great way to stay aware of what you have to do and plan it out for yourself. This can also help you stay organized and avoid forgetting about something and scheduling something else for the same time. You'll also be able to avoid overworking yourself by specifically scheduling downtime so you'll have better peace of mind and control over how your week is going to go.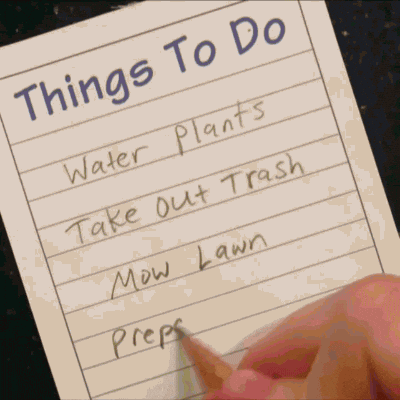 Don't Take On Too Much
While it may be tempting to say "yes" to every opportunity that comes your way, you won't be able to enjoy what you're doing if you're overwhelmed by all your responsibilities and commitments. Sometimes, you might have to pass up that extra babysitting gig or special night out with your friends to give yourself enough time for what you really need to do. Don't bite off more than you can chew!